We're thrilled to announce our relocation to the absolutely excellent Grønland 1 in the heart of Drammen. This move reflects our commitment to fostering a dynamic and flexible working environment for our people while also embracing sustainable practices. Let's show you around.
A Modern, Flexible Workspace
Our new office goes beyond traditional workspaces – promoting employee wellbeing with features such as an on-site gym, changing rooms, showers, and a sauna. We also have access to a studio for streaming our digital meetings, and green spaces for relaxation and recharging. At Virinco, we believe that a healthy and happy team is crucial to our success, and we're proud to offer these facilities to our people.
The award-winning architecture of Grønland 1, designed by Halvorsen & Reine AS, showcases a unique and bold expression that sets it apart from other buildings. Featuring locally sourced materials such as granite and zinc, our new office embodies the essence of sustainable, Norwegian value creation. The building also features energy-efficient systems, charging points for electric cars and bikes, and its proximity to public transport hubs further encourages eco-friendly commuting. Basically, the building completely aligns with the ethos of Virinco: championing innovative and sustainable practices.
A Prime Location
Grønland 1 has a super central location, with excellent connections to Gardermoen, Oslo, Kongsberg, and Torp. It's also just a stone's throw from Drammen Station and the bus terminal; so whether we're visiting clients, or they're coming to us – it's always easy.
Our move to Grønland 1 places us at the heart of the thriving Strømsø district, where creativity and development are flourishing. With ongoing billion-dollar investments and exciting projects such as the transformation of Union Brygge, we're delighted to be part of this vibrant community, surrounded by cultural hotspots, fantastic amenities, and a growing business ecosystem.
We're excited to begin this new chapter in our journey, confident that our move to Grønland 1 will enable us to continue growing, innovating, and providing exceptional outcomes for our team and clients. Here's to a thriving future at our brilliant new home!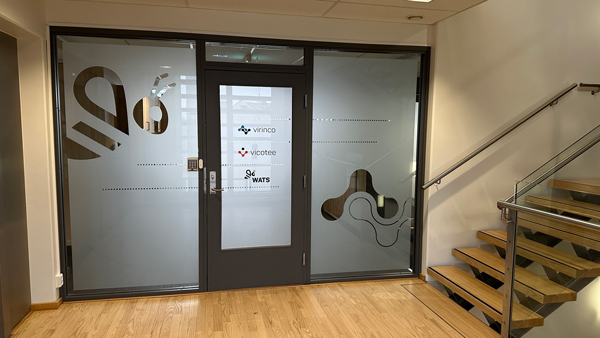 Welcome to the House of Virinco.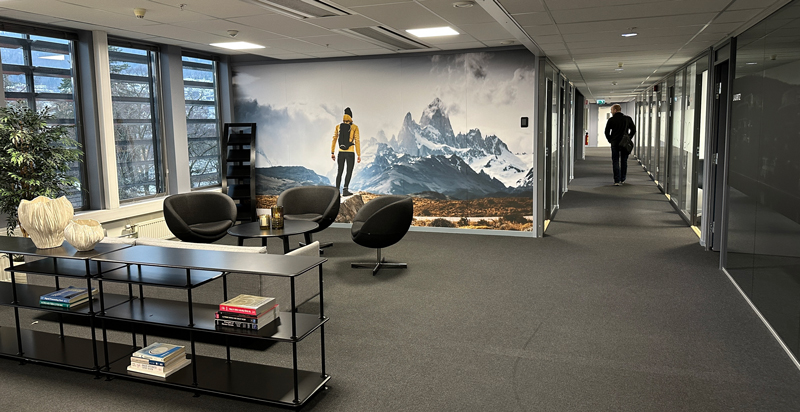 The corridors and social sone at the Virinco Technology department