For its strong overall performance, Virinco has been recognized with Frost & Sullivan's 2022 Global Customer Value Leadership Award in the electronics manufacturing test data management industry. To say we are proud would be an understatement.
Global Customer Value Leadership Award
Frost & Sullivan bestows the Customer Value Leadership Award on businesses that provide goods or services that consumers deem superior in terms of overall value, effectiveness, and quality. Virinco is humbled to receive this award based on its performance, especially from an organization as prestigious as Frost & Sullivan that takes its market research seriously.
Frost & Sullivan finds Virinco's seamless and frictionless approach and close customer relationships position it as a partner of choice to automate and digitalize the electronics manufacturing test with WATS.

Samantha Fisher, Best Practices Research Analyst at Frost & Sullivan
How Virinco Was Chosen
According to Frost & Sullivan, the value of the global test and management sector is expected to reach $3 billion by 2027, growing at a compound annual growth rate of about 4.2%. This growth shows that the industry is competitive and is going from strength to strength as digital adoption increases throughout electrical manufacturing.
For each award category it assesses, Frost & Sullivan evaluates a number of candidates using a thorough analytical process before selecting the winner. Each chosen company is subject to a thorough assessment of best practices in the following two key areas: business impact and customer impact. The company's analysis features interviews with industry participants and wider industry surveys.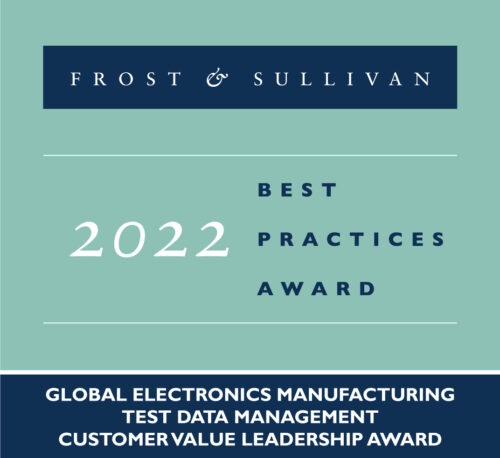 Why Virinco and WATS Came out on Top
Virinco is happy that, after conversations with the industry, Frost & Sullivan saw the true value that the company and the WATS platform offer to customers.
WATS solves a key problem in electronics manufacturing by making test data visible, which is the first step in achieving better quality in electronics manufacturing. Access to data leads to improved production, testing, and general manufacturing processes. Virinco's value proposition, on top of the WATS solution, is to leverage its experience to provide customers with better ways to integrate the test data collection and evaluation into their manufacturing processes.
Virinco continues to improve its product features to meet consumer needs and to retain customers. Over the years, the company has improved WATS to become an industry leading platform in calculating true first-pass yield analysis, step-fail Pareto, rolling yield and carrying out process capability analysis, test station reporting, and real-time warnings.
Electronics manufacturers everywhere can now cover all their test data needs in one place through an off-the-shelf solution. Being recognized with this award is the cherry on top for Virinco.
As several customers witness rapid returns from WATS due to the comprehensive capability to reduce costs and increase test speed and flexibility, Virinco sees high customer retention rates.

Prabhu Karunakaran, Industry Principal, Industrial Technologies at Frost & Sullivan.